Millions of consumers may use Novopay to send money, withdraw cash, make purchases, and use a variety of banking and consumer-related products and services on the merchant network. Certain of India's most innovative banks are currently operated by an AI-powered SaaS-based core banking platform. Today, Novopay is improving daily and the goal is to make banking available throughout the nation by expanding the distribution network, adding additional products and services, and raising the bar for banking technology.
Vinod Khosla, the founder of Sun Microsystems and IDFC, provides funding for Novopay. Its headquarters are located at 18/2A, Sarjapur Road, Bangalore-560103, on the second floor of the GRS Towers, above Cafe Coffee Day.
Novopay's Gen X CBS is a one-stop shop for all banking needs, including banking transfers, customized use cases, elegant dashboards, and machine learning for analytics. It is built on new technology and design, with an eye toward the usability of banking networks and evolving innovations.
Although Novopay as a firm is obviously not using this banking strategy, its retail network has grown over the past year and is now providing banking services to small towns and villages as well. Novopay has over a lakh reputable retailers as partners. With safe and reliable transactions spanning over 25 states since 2014, shops providing devoted services have seen daily growth in consumer numbers and advantages.
Features of Novopay
Novopay offers you financial possibilities for your retail business, meaning that as a member of Novopay, you can receive a commission of up to Rs 50,000.
Since Novopay supports all of the main banks, you may transfer and deposit money from any bank account using a money transfer facility. The Aadhaar ATM allows you to take out cash from any bank account by using your Aadhaar Authentication.
Novopay is equipped with a cash-collecting platform that provides over 20 services through the Cash Services facility.
Simply follow these simple steps to pay your utility bills.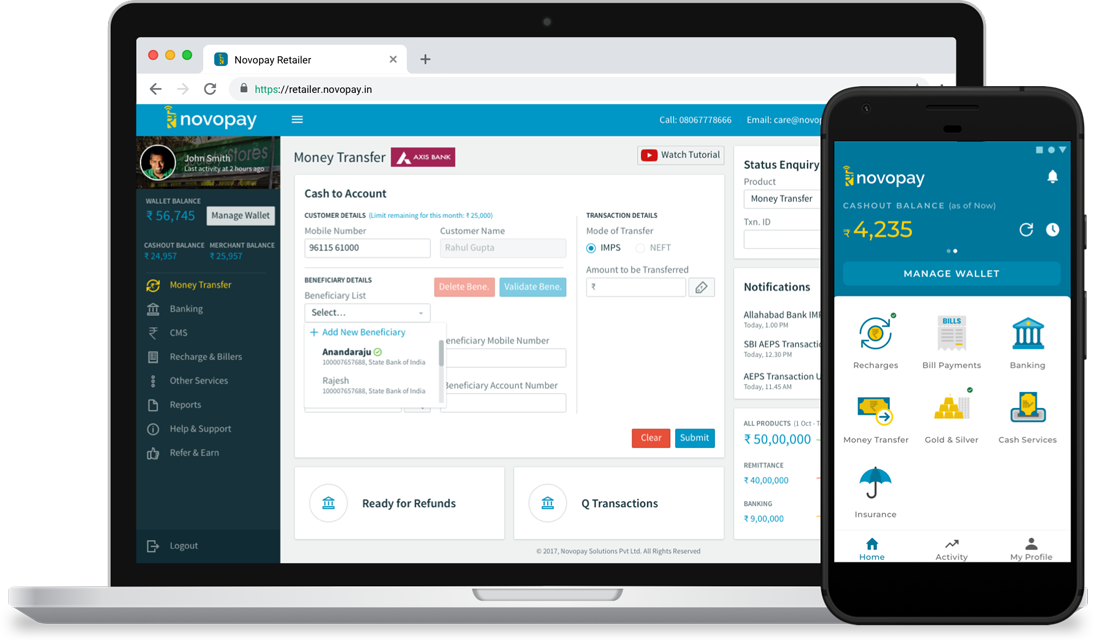 Recharge your customers' DTH and mobile devices since Novopay supports all network providers.
Protect the clients' health against needless hospital stays and provide them with financial reimbursement.
Read More: Fastest way to pay online – payment methods rated and reviewed
Make Safe and Simple Payments With Novopay
Novopay is a digital wallet supported by banks that facilitates payments, purchases, and money transfers at retail locations. One never knows when they will capture the creative beast. The fact that Novopay comes with a regular cash withdrawal option from your closest Novopay agent sets it apart from other similar products.
Novopay fundamentally wants to facilitate the growth of the Indian retail environment by making banking and payments simple, fast, and safe. Currently, Novopay has established a network of more than 45,000 retailers across 20 states.
It offers walk-in clients domestic money transfer services and banking transactions based on Aadhaar through this network. Additionally, it collaborates with other companies and e-commerce platforms to enable corporate clients to send electronic payments. Additionally, the business offers cutting-edge solutions to key partners for the management of obligations, resources, and payments.
The technology from Novopay was very well received when it was introduced to IDFC Bank. "With the addition of new service lines to its portfolio, such as loans and insurance, Novopay is ready for a quick expansion.
Novopay intends to grow and transform into a sizable retail network of financial services that offers lending, insurance, cash management, money transfers, banking, and other services to a broad range of national banked and unbanked clients."With the introduction of UPI and the growing popularity of Aadhaar-based transactions, Novopay views its digital flexibility and internal development potential as its strongest strengths for steady corporate growth.
Novopay KYC
2015 saw the release of Novopay, which is available for download from the App Store or Google Playstore. You can withdraw up to Rs 10,000 if you are a non-KYC user and up to Rs 1 lac if you have finished the KYC procedure each month. Cash withdrawal privileges are granted to KYC users in contrast to non-KYC users.
Less than 1% of the load amount is levied as a fee for the cash withdrawal. Along with Aadhaar's two-factor security authentication, the app will also use the Aadhaar forum to check banks' KYC standards for customer verification. Any smartphone with a dependable internet connection may complete the KYC procedure.
Through a partnership with RBL Bank, the wallet enables cash withdrawals or deposits at more than 10,000 Novopay locations. To push new solutions and services in the market, Novopak has alliances with businesses like Ezeetap, Innoviti, and others in addition to its own stores.
Process of Novopay Online KYC
Please follow the instructions below to learn about Novopay's online KYC procedure. Navigate to your mobile device's selected app store and look up Novopay.
Now click the "Install" icon to begin the app's download.
Once the installation is finished, launch the application and finish the registration procedure if you're a first-time user.
If you are already a user, click "Log in" after entering your registered mobile number.
Now log in to the Novopay app and input your 4-digit MPIN.
Select the "Bill Payment" option now, and then select "Activate Now"
You'll now be sent to the "Complete KYC" page. To upload a copy of your PAN Card, choose the "Tap to Scan the Document" option under the PAN Card section. To upload a copy of your Aadhaar Card, select "Tap to Scan the Document" under the AADHAAR CARD section. Select the "COMPLETE KYC" option now. Your KYC procedure will be finished after the uploaded papers have been validated. Following a successful KYC, you may begin using bill payments and become a Gold Retailer.
Read More: 5 Top-notch Self-storage Companies Who Accept Bitcoin As A Payment Gateway
Novopay Retailer
One of India's DMT and AEPS platforms with the quickest rate of growth is Novopay. More than one lakh shops presently use Novopay, and over a thousand new retailers sign up for the platform each month thanks to the improved revenue stability it offers them.
Since its launch in 2013, Novopay has collaborated with the majority of significant banks and financial institutions to streamline the payment process for users. Sign up with Novopay to start earning Rs 50,000 a month. Discover all of the Novopay retailer app's features and services by scrolling down.
Convert your establishment to an Aadhaar ATM and get top-notch commissions of up to Rs 50,000 Quickly transfer funds for your clients from any bank account Pay your clients' bills on time, across all power boards. Pay your clients' postpaid invoices and prepaid recharges. For your clients, pay for DTH recharges on Tata, Airtel, SUN TV, DISH TV, and other platforms.
Give your clients access to health insurance, which includes coronavirus insurance. Aadhaar ATM: Use Aadhaar authentication only while providing your consumers with money withdrawal services from any ATM. By offering cash services, you may become a central location for collecting payments for over 20 different services.